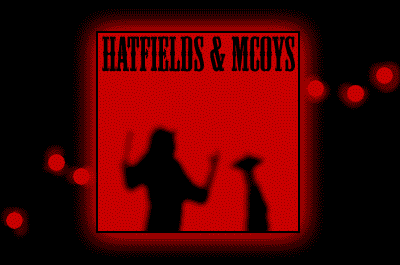 Along the border of East Los Angeles and Little Tokyo, where the Los Angeles River flows down to become a part of the big sandy in Long Beach, an astonishing epic of Boyle Heights love and hatred boiled up in the closing half of the last decade to leave behind it a trail of graves and burned out homes. Oldtimers who remember the bloody vendetta between Pedro Hatfield and Takeshi McCoy speak of it as the most infamous feud in our history, and still to this day, lower their voices and glance over their shoulders to make sure nobody is within spitting distance who might overhear and get offended, for that eerie feeling never has quite died out that the war will some day start anew.






Burning house scene from "The Hatfields and McCoys"






THe Hatfields and McCoys, a love story of two people, Claribel Hatfield, daughter of Pedro, and Yuzo Mccoy, son of Takeshi separated by a raging river and the heated rumors of their communities. This story chronicles the love which existed from their first meeting in elementary school to the vicious brujas who fueled there heart-wrenching break-up. The painful seperation, however, would be short lived because of the burning passion each lover had for the other deep in their heart. A must see for those who have ever experienced the hunk-a-hunk-a burning love which exists within the wild hormones of adolescents and have cruised Whittier Boulevard. Rated R. Not intended for adolescents under the age of 17.



Home | Yellow River | E-mail | FAQs





Ground Zero Productions, 1996